2017 is the first christmas season in the Sprinkles Cakery kitchen so I'm keeping the pre-order christmas treats menu pretty simple this year. Please find below my christmas prices and available treats...

*All items are pre-order only. No minimum order. Please order via the contact form on my contact page or by email

[email protected]

and all orders must be placed and paid in full by  Saturday 16th December 2017. These orders are available as  pre-arranged collection only from my kitchen in Tunbridge Wells,Kent. Collection times will be Friday 22.12.17 130pm-330pm or 7pm-9pm and Saturday 23.12.2017 9am-11am.
Vanilla or Chocolate Cupcakes with Fondant Topper - £2 each

A cupcake base, with a buttercream swirl and then topped with a 2.5" handcrafted topper of your choice (12 choices available - images behind)

1. Reindeer

2. Santa

3. Christmas Tree

4. Blue Snowman

5. Snowflake

6. Penguin

7. Angel

8. Xmas Pudding

9. Pink Snowman

10. Present

11. Robin

12. Elf

Please state your flavour and design choices at the point of order.

Chocolate Treat Christmas Pudding

A chocolate lovers delight; A terrys chocolate orange surrounded by maltesers and topped with belgian white chocolate and a fondant holly leaf.

The board can be personalised with a name for an extra £1.

Father Christmas Candy or Chocolate Lollipop Treat - 20p each
Choose from either a red candy or belgian white chocolate lollipop.  A Father Christmas head. All lollipops will be individually wrapped.

These would make great stocking fillers or a sweet treat in a childs christmas eve box.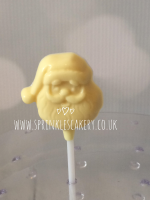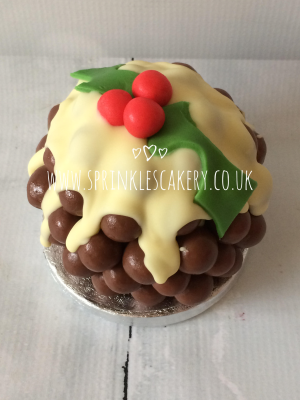 5" Round Christmas Drip Cake (serves 15 finger portions 1"x1"x3.5")

£30

A vanilla or chocolate celebration cake, split and filled with jam and buttercream. The cake will then be covered with buttercream and topped with dripped chocolate ganache and decorated with yummy christmas themed goodies. (images to follow)
Limited order slots available.